Interviewed with Thalo
February 2014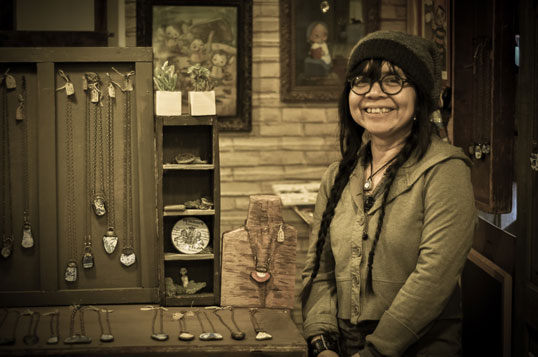 Who: Dolhathai S. (Pooh)
Business: Past Objects Art & Jewelry
"Wearable History"
In 2008, Dolhathai joined a team of historians and collectors that dig for old glass in New York and other cities in the east. She became inspired to make beautiful, carefully made jewelry from objects found on those digs. Each piece is unique and comes with a story from the original site where it was found.
thalo: What ignited the spark for turning these amazing finds into jewelry?
Dolhathai: All these artifacts were discarded and buried underground long ago. They are all small pieces of history and all display the beautiful craftsmanship from the old days. My interest is in preserving them as special objects from the past, objects that people can appreciate again indifferent forms. I enjoy this creative process.
thalo: What is your process in creating these pieces?
Dolhathai :I use shards and little fragments that look like they have the potential to be restored. I clean and grind these pieces into shape. I use durable materials, which I wrap around the pieces and decorate them with antique findings. The whole process takes some time. I then let the pieces sit overnight before I clean them again for the final time and then put the pieces on chains.

thalo: Is there a piece that you are most proud of? If so, why? What does it mean to you?
Dolhathai : Actually, every piece is a favorite because they are all one of a kind design each piece carefully to match the history and size of each piece. I also think about how all these artifacts were used before by someone in their everyday life. They make me feel as if I'm going back in time and it's very enjoyable to make them into jewelry that people can appreciate now.
thalo: What's your favorite part about having your own business?
Dolhathai :Total freedom of the creative process, the time spent working on the pieces, being my own boss, the planning of building my own business and managing my own lifestyle.
thalo: If you could give one piece of advice to someone looking to take their passions and turn it into a business, what would it be?
Dolhathai :The most important thing is one should really enjoy what one does. When you make something with love, it will show in your work. Also, be original and as creative as possible. Don't think too big. Let it grow and develop little by little. And of course, be patient. Don't give up and keep following your dreams. Be positive and happy in what you do. Success comes from the good energy inside of you.